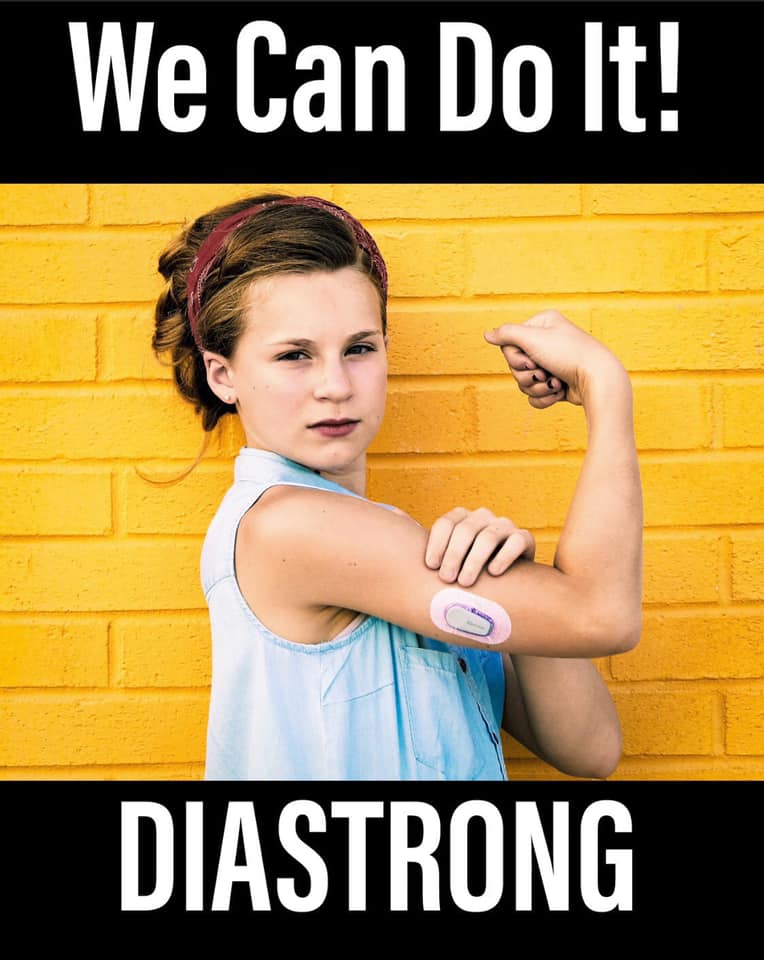 Rosie the Riveter?  Ever see that picture?  She actually was not the original but she is surely the most well-known.  The one we know today came to represent the empowerment of women.  The 'one we know' was commissioned by the Westinghouse Company in 1942 to boost morale in the company.

But Rosie has come to mean so much more than just 'a' woman for 'a' company, she has become the representation of a movement.  She has come to represent all women, in the battle of equality.  A battle that should probably have never had to occur.  But history had different roads of the same jobs being paid differently depending on who was doing the job. With the iconic phrase, "WE CAN DO IT", it has been the battle cry for some time.  It has been the demand for "…..yes, we can!"

I was taken back recently by a picture I came across on the PEP Squad FB page.  It was created by Kara Mitchel and is of her daughter Avery.  Avery is 13 years old and was diagnosed at the age of nine.  Mom shares that Avery is not one to show off her diabetes gear but she is also happy to show that; "….she is kicking diabetes' butt…." You GO GIRL! Just as the original poster was so much more than a meaning for or about one person, this Diastrong poster, featuring Avery, should be hanging in rooms across this country.  For that matter, it should be hanging in every pediatric-endo's office in the world.

That little squint in Avery's eyes states clearly that she 'has' this. She is showing confidence in the muscle she shows.   She could represent every child out there to say, "We Got This".  We 'got this' thing called diabetes, we have it, we own it and it will not own us.  We are strong enough to handle whatever it is that diabetes throws at us.  The fact that Avery is wearing a Dexcom CGM lends me to believe that she should be given a spokesperson contract; call me I will gladly represent you with the Dexcom Company——this picture is THAT good.

So many times we look for someone to inspire our kids.  Sometimes it is a sports star or entertainment star sought after but I say, for inspiration, you need to look no further.  There is a hero among us.  A young lady who shows she is strong enough, good enough, and well enough to take on this thing called diabetes.  Every child, and in fact many adults too, should hang this picture in an obvious place to remind all of us that when it comes to dealing with diabetes, YOU CAN DO IT.  We Can Do It! Like Avery, we are DIASTRONG!
I am a diabetes dad.
Please visit my Diabetes Dad FB Page and hit 'like'.

Photo with permission and created by Carleigh Alvery at Ember & Ash Photography.