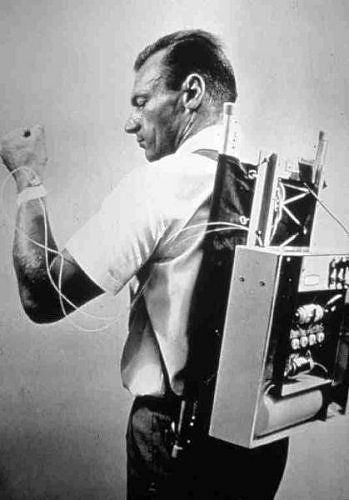 I have often wished that that 'biological' make-up of our kids living with diabetes were the same make-up of a diabetes management device. My daughter was one of the first kids wearing an insulin pump on Long Island. Hard to think that the original proto-type for an insulin pump looked like the one in the picture. Imagine walking around with that thing on?

BUT………

……..once someone engineered the workings, the world of device research could take their shot at making it faster, smaller, quicker. And once THAT was done they could connect to other devices to dispense insulin. It was easy to do that because the device was there. The world just had to make that device better, and they did. As with the insulin pump, so many other devices and companies sunk everything they had into making 'their device' the best one out there.

And each step of the way since the day insulin was discovered, less than 100 years ago, the headlines all touted 'The closest thing to a cure for diabetes.' Uhhhhhmmm…..no.
It seems devices get the good press while that all elusive biological research continued ,but too slow to our liking .

Years ago, I sat in a meeting where the conventional world stated that the transfer of islet producing cells from one individual to another would never work………but here's the thing…….it did work. But the same nay-sayers said that well sure, but they are on immunosupressive drugs. But the truth is that each person in those clinical trials suffered from sever hypoglycemic unawareness. They could not hold a job, drive a car, and in essence their quality of life was severely impaired. So those who 'were in the know' kept force-feeding the world that the immunosupression drugs was a deal-breaker and abandoned hope and told the world they should abandon that idea as well..

Well not everyone and thank God, not everyone.

For the largest amount of those in the trials (some have been off insulin for over ten years) even those that ended back on small doses of insulin or completely back on insulin altogether, their quality of life changed forever as their hypoglycemic unawareness was no more. But I'm not touting that the cure is here, it is not.

But I have a question, what if someone stated way back when; "well that insulin pump is just too big, forget it?" They didn't. They kept at it.

And we have to make sure that the world of biological research continues to 'work at it'. Now across the world various many Researchers are working on figuring out a way to implement these biologically produced cells in the right place in the body, protect them, sustain them, and have enough to go around. Now many people think that 'big pharma' will do everything to prevent this from happening. I don't think so, but let's say for a second that the belief is true, do we just say okay and walk away?

If there is one thing I know about this wonderful diabetes community, is that we never walked away from a fight. Whoever and wherever you choose to support is ALL YOUR CHOICE…….but if we know what works but has hurdles, why would we not demand that as much money as possible be spent to eliminate these hurdles?

"Re" — "Search"—to look again.
And again, and again, and again until we get there.
Biologically?—just like the backpack insulin of yesteryear—–it needs to be improved, but not abandoned. In fact all steps surrounding this research should be ramped up if you ask me. We need more looking into this area, and all surrounding ideas.
I am a diabetes dad.
Please visit my Diabetes Dad FB Page and hit 'like'.