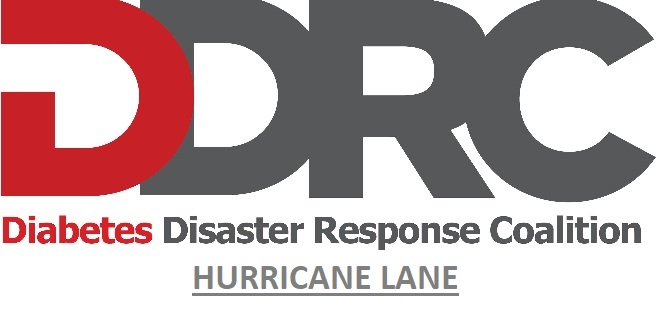 The Diabetes Disaster Response Coalition was created after years and years of people wanting to do something, AND DOING SOMETHING, but without a cohesive effort so the entire diabetes community knows what to do in the time of disaster.  This is the only time I will speak in general terms about this group…..moving forward, when you see the logo, it will be an indication that there is an update as this column will be turned over for information about a particular disaster.
During times when you want to help, go to the Diabetes Disaster Response Coalition FB page for up to the minute information on how to help.  There is a great body of people involved on this Coalition co-chaired by Carol Atkinson (Insulin for Life/USA) and Kelly Mueller (American Diabetes Association) because that makes sense.  There is a lot of things making sense with this group.  At some point I will fill you in on who is involved but let's get right to the nitty-gritty with information on what to pass along to your family and friends in Hawaii who might have diabetes concerns.
The most important information is what YOU NEED to do to be prepared to handle your (or a loved one's) diabetes care during the upcoming storm:
CLICK THIS LINK FOR PATIENT PREPAREDNESS
1. Documentation. Write down type of diabetes you have, other medical conditions, allergies, and previous surgeries. Include current medications, doses, and time you take them along with your pharmacy name, address and phone number.
* Prescriptions. Ask for an extra supply of all medications, including insulin and Glucagon, if prescribed. During an emergency, you are eligible for an emergency override. Call your pharmacy, if they say no, contact your healthcare provider for an altered prescription. Warning: Insurance may not pay for the increased amounts.
2. Insulin. If you lose power and you have unused insulin, don't throw it out! In an emergency, it is okay to use expired or non-refrigerated insulin. 3. Shelters. A live map of open shelters from the American Red Cross can be found here. You can also contact the American Red Cross directly at 1-800-RED-CROSS. If you find yourself in a shelter without proper diabetes care and supplies, call 1-800-DIABETES.
4. Statewide Updates. Emergency updates and other resources can be found here. Hawaii Emergency Management Agency. http://dod.hawaii.gov/hiema/
The Diabetes Disaster Response Coalition FB will be updated as needed.
I am a diabetes dad.
Please visit my Diabetes Dad FB Page and hit 'like'.