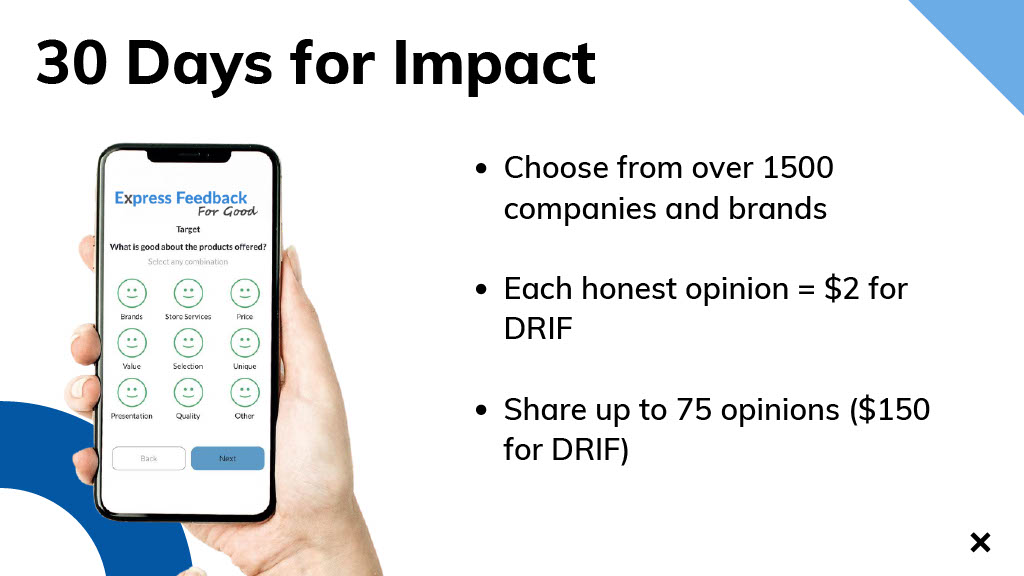 Okay my friends——this is about as easy as it gets to make a difference. You can help the Diabetes Research Institute (DRI) raise $50,000 and you do not have to give a dime out of your pocket, but just allow your opinions to be heard. ANYONE CAN BE PART.

Real simple, right on your phone:
Text "DRIF" to 31996
You will get a step-by-step process to register——SUPER EASY
You will then be given a menu to give your opinions on foods, films, entertainment, stores, and so much more. For each one you fill out, $2.00 will be donated to help the research of the DRI.
You can do up to 150 surveys and each one takes NO MORE than 30 seconds and you have until the end of February to complete as many as you wish.

Your info is not stored and you will not be contacted by ANY OF THE companies in the Survey. I have been doing this and it is so simple. Spouses, moms, dads, in the same houselhold or not—-you just need to be over 18 andyou can all participate. Each survey completed; The DRI Foundation receives $2.00.

HERE IS ANOTHER REASON TO DO THIS—-WE ARE ALL INVOLVED IN CAUSES THAT ARE NEAR AND DEAR TO OUR HEARTS. WHEN YOU SEE HOW EASY THIS IS TO DO, I WILL PERSONALLY CONNECT YOU TO THE GROUP SO YOU TOO CAN DO IT FOR A NON-PROFIT CAUSE DEAR TO YOU AS WELL.

Thank for caring……..and PLEASE share this with someone.
I am a diabetes dad.
Please visit my Diabetes Dad FB Page and hit 'like'.